HSM Welcomes Five Summer Interns
The HSM Group is delighted to once again offer their summer internship programme and has welcomed five students from the Cayman Islands Further Education Centre (CIFEC).
Jaysie Allen, Destiny Russell, Shyanne Stewart, Paris Jackson and Jahzarah Bush have joined the HSM team for the summer. As a full-service law firm in the Cayman Islands, HSM provides interns with a variety of practice areas including Corporate Services, Debt Collection, Immigration and Intellectual Property.
The summer internship falls shortly after an 8-month long work experience scheme with the CIFEC programme. HSM's summer internship will enable these students to gain valuable experience and develop the necessary skills required to evolve onward with their future careers while making meaningful contributions to the firm.
"Seeing students so eager to apply and advance themselves is truly refreshing to witness," shares HSM Managing Partner, Huw Moses OBE. "The arrival of the summer interns is highly anticipated each year and our team aims to instill lifelong skills and valuable work experience into each intern to help shape them into young working professionals."
HSM is an avid supporter of the CIFEC programme and will be participating at CIFEC's annual career fair in September. HSM has supported the CIFEC programme since they opened their doors in 2012 and employs seven CIFEC graduates full-time.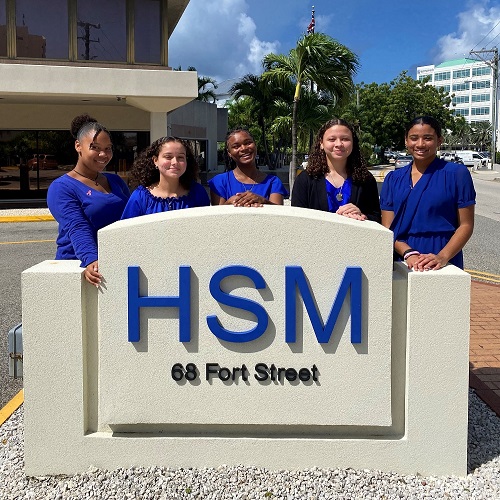 (L-R): Shyanne Stewart, Jaysie Allen, Paris Jackson, Jahzarah Bush and Destiny Russell.